branson
| March 16, 2017 |
Latest News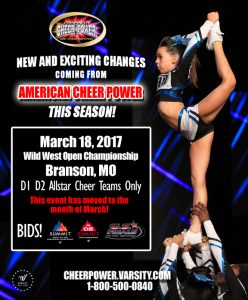 by Tim Church
BRANSON, Mo. – Spectators are invited to the Branson Convention Center on Saturday for the American Cheer Power Wild West Open Championship.
This event serves as bid qualifiers for the U-S Finals, D2 Summit Wild Card, and The Summit Wild Card, as well as the Conference Cup Challenge qualifier.
Doors open and coaches registration begins at 7 a.m. Spectator fees are 15-dollars and children five and under are free. Seniors with ID and Military with ID will receive a five-dollar discount.
The awards ceremonies for All Star Prep will be held at 11:50 a.m., Levels One and
Source:: HomeTown News Feed