branson
| March 8, 2017 |
Latest News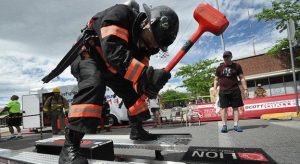 by Sam Clanton
BRANSON, Mo. – The Branson Firefighters Association is planning to host another regional Firefighters Combat Challenge in May, and hopes to expand the event in years to come.
The challenge involves pairs of competitors in full bunker gear racing head-to-head to perform a series of linked tasks, including climbing a multi-story tower, dragging hoses and rescuing a life-sized victim.
Captain Scott Cizek of the Branson Fire Department says this year's event is scheduled for the weekend of May 5th at Branson Landing, where last year's challenge drew about 80 competitors.
He says the goal of the association is to
Source:: HomeTown News Feed