branson
| March 8, 2017 |
Latest News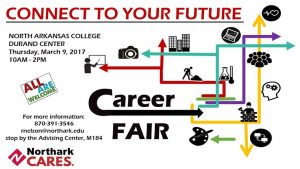 by Shannon Cay
HARRISON, Ark. – North Arkansas College is gearing up for its career fair on Thursday.
According to Northark's Career Services Coordinator Rachel Nelson, 42 different booths will be at the Durand Center wanting to speak with people seeking internships, full-time, part-time, or even temporary jobs in the area:
She says this event is open to everyone including students. Nelson recommends dressing to impress, bringing a copy of your resume, and preparing to speak with employers directly. Nelson says the college has been hosting this event for more than ten years.
She says
Source:: HomeTown News Feed