branson
| May 21, 2017 |
Latest News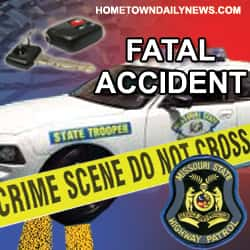 by Shannon Cay
REPUBLIC, Mo. – A man from Springfield dies in a crash near Republic early Sunday morning.
Troopers say 56-year-old Daniel Mcleod from Republic was driving southbound on Terrell Valley Road in Christian County at around 4:00 a.m. According to the crash report, he ran the car off of the roadway and the vehicle overturned. A passenger in the car, 25-year-old Shane House was pronounced dead at the scene by Christian County Coroner Mandi Armitage.
Another passenger 24-year-old Amanda Medlin, also from Springfield, was taken by lifeflight to Cox South Hospital in Springfield to be treated for serious injuries.
Source:: HomeTown News Feed